A short summary of what you can find on Christophe's CV:
Corporate Marketing Director/Services Marketing Expert and administrator in various Tech Companies
Lecturer Karel De Grote Hogeschool (Antwerp), guest lecturer at various institutes & colleges
Engaged as president of a charity organisation since 2007
Co-founder and managing partner of Business Markers
Today
Organizations can call upon Christophe's expertise to achieve and develop their growth targets. In these times of fierce, global competition and quickly changing digital business processes, concepts such as 1 Page Strategies, Smarketing and Customer Experience can make or break a business. Christophe's major focus is to drive change while bringing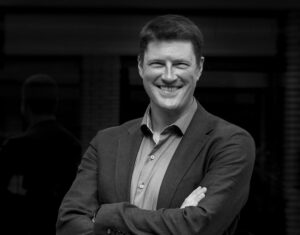 What's typical about Christophe?
Professionally, Christophe loves to meet new people and successfully develop the business. Besides working, he enjoys most of all spending time with family and friends. Christophe can feel inspired by music, design and technology, and as a petrolhead he has a particular interest in cars and motorbikes. Chocolate and ice cream are guilty pleasures he finds hard to resist, but fortunately he also likes to clear his mind and soul by running.
What can Christophe mean for you?
Christophe considers himself as an optimistic realist. Therefore, he will always look for an ambitious but achievable plan to grow the company. He has been able to successfully develop growth plans in various sectors and many different sizes and types of business. As Christophe appreciates people who do what they say, he also likes to 'walk the talk' and stick around to put the strategic plan into action.
Lassen Sie uns Kontakt aufnehmen: